Hello my little ABDLs, are you ready for more Nursery Stories? Then here we go!
"Well then," I said, quite a bit more confidently than I felt, "I guess it's time to check that diaper of yours, hmm?" His eyes got wide and confused, and then a small, surprised smile crossed his lips and his eyes started to light up, hopeful.
I gathered him up in my arms, hugging him and stroking his hair, nuzzling his neck, rubbing his back…then I slid my hand down his back, sticking two fingers inside his pants, and then his diaper. I reached my fingers down and blushed as I felt the wetness.
"Oh my!" I exclaimed. "It certainly feels like someone needs a change!" With that, I smacked his diapered bottom and ushered him up onto the changing table. He looked so nervous lying there; I shushed him softly and reached for a pacifier to put in his mouth. "There. All better."
I turned my head towards his diaper and held my breath while I unbuttoned and pulled off his pants…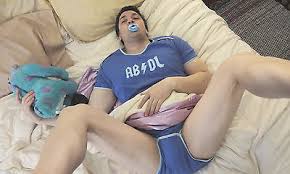 Love, hugs, and diaper pats,
Nanny Ella
*Don't forget, sweet ones, Nanny Ella can make up a story all about you, and roleplay the type of scenes that I describe online! Give me a call…and play with me in my ABDL nursery…*
888-430-2010