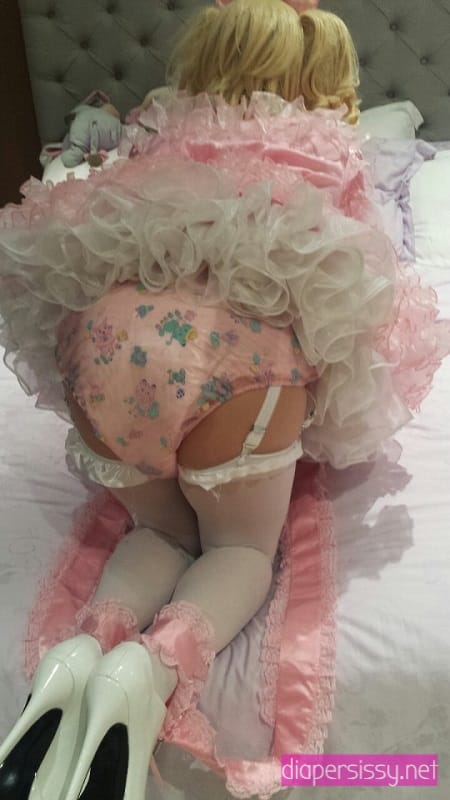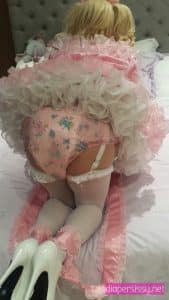 Sissy Baby Tammie shook and cried while Mommy and her friends laughed and teased her, talking about what a stinky baby she was.  It wasn't her fault! She had been just a little cranky earlier (she may have talked back to Mommy, but it wasn't that bad), and Mommy started being so mean! She wasn't even told before why she was pulled down onto Mommy's lap, never even saw the thermometer, but she sure felt it when Mommy slipped in it her bottom while she was laying over Mommy's lap with her diaper pulled down.  She started to squirm, but then Mommy's firm hand came down hard on her bottom, and Tammie was told that there was more coming her way if she didn't settle down.  She barely managed it, the feeling of the thermometer inside her was so embarrassing! When it was pulled out she thought that was it, right until Mommy pushed a few suppositories inside her, telling her that she was going to use her abdl diapers just like a good sissy baby… in front of Mommy's friends!
Once Mommy Brenda had pushed three suppositories inside Tammie's bottom, she stood her up to pull the diaper back in place, and told her that she had to crawl to the living room in her pretty pink dress and thick abdl diaper for all her friends to see! Mommy put a lacy bonnet on her head, mittens on her hands and baby booties on her feet to finish the adorable outfit. She almost balked about it, but the squinty look Mommy gave her got rid of that idea quick.  So, she did want she was told to do, her head hanging down in embarrassment when she crawled into the living room, heading right to the middle of the room, so everyone could see her. Mommy smirked at her. "Now, you stay right where you are, so that we can all watch when those little suppositories I pushed inside you start to kick in!", she said.  It wasn't long before Sissy Baby Tammie's stomach started to cramp, and it must have shown on her face. Mommy Brenda and all her friends started tease her, telling her that she was such a silly sissy baby she might as well poop her diaper in front of them, they already knew how ridiculous she was! That was humiliating enough, but when she couldn't hold it anymore, and she started to fill her diaper up with a loud rip, it got even worse! Mommy Jackie came over to lift her dress even higher, pointing how lumpy the back of her diaper was to everyone, then giving it a firm couple of pats.  "Someone has made a stinky mess of themselves!", she said. "Couldn't hold it, hmm? That's exactly why you're in diapers, silly." All Sissy Baby Tammie could do was moan and squirm in embarrassment while everyone laughed at her! Sound like something you would love to have happen to you? Give me a call for some sissy humiliation phone sex.
Aunt Brenda
1-888-430-2010
Click Here to chat with a phone sex lady!
#sissybaby #diaperedsissy #forcedenema #humiliation #sissyphonesex