Learning Lessons
March 24, 2013
I'm A Bad Piece Of Candy
March 25, 2013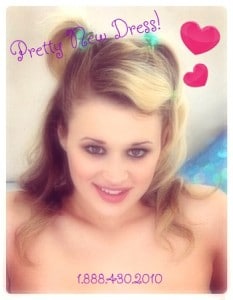 Guess what, guess what, guess what!!!! Did ya guess?!? I got my pretty new Easter Dress!! Getting pretty new dresses is always one of my very favorite parts of holidays since I love shopping so much!! And Daddy said that since I was a good girl for most of the time that my special Uncle came to visit, I could pick any dress that I wanted.
I picked the prettiest light purple dress 'cause purples my favoritest color AND it's a pretty Easter color!! It has a swooshy full skirt and when I spin around real fast it flies up and you can see underneath!! Daddy said not to do that though hehe. Anyways, it has puffy sleeves and it came with a matching purple ruffle panty. I'm gonna wear it with some brand new silver mary jane shoes that Daddy got me too!!
What's everyone else wearing for Easter? I want to know about all the pretty dresses my sissy friends are gonna wear! Oooh or maybe you need to borrow a dress! You can come look through my closet for the perfect Easter dress for you!! I love sharing with my sissy friends. Plus, I can show you MY pretty new dress!
Love, Lacy
1.888.430.2010