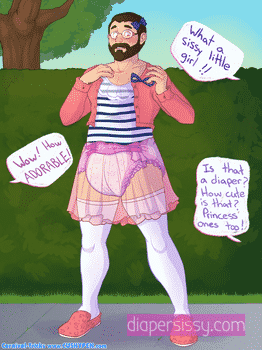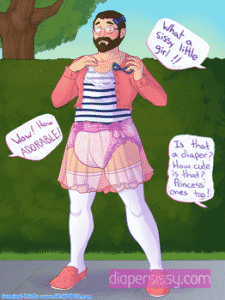 Leonard walked out his front door for the grocery store, his belly full of coffee and some tasty banana nut bread that his neighbor Brenda had brought over to him the other day, saying that it would make him an excellent light breakfast. He thought it was a little odd, considering that they had gotten into a pretty heated argument just a few days ago, but she apologized so he supposed everything was back to normal now. He saw her blinds twitch a bit but paid little attention to it as he headed for the store.  About ten minutes in his trip, he started to itch, but didn't pay a whole lot of attention to that either.  Then the itching turned into a weird tingle and he tried to think of what he might have gotten into that he might have been allergic to, but nothing came to mind.
He'd almost decided to turn around and head back home when he suddenly felt something thick between his thighs pushing them apart and looked down to see… a diaper?! A huge diaper that he could see right through the sheer skirt that he now had on! He crossed his hands in front of the diaper in shock and humiliation, noticing he had on a pink cardigan on instead of his green cargo jacket. What was going on?! He started hearing giggling all around, and his head jerked up in shock to see several woman watching him, some talking about how cute he was! He turned around quick, the only thing on his mind getting home, and was stopped short in shock when he saw Brenda walking towards him with a smile. She hooked her arm in his and started walking back towards their homes.
"Look at you! Oh, you are adorable, this worked out even better than I thought it would." Brenda patted his diapered bottom and Leonard felt his cheeks burning with embarrassment. "And already so submissive! Just an hour or so ago you would have been yelling at me like you did a few days past. Seems like that all that aggression has simply disappeared… or something is suppressing it." She winked at him. "I knew all you needed was a little help and you'd be a perfect sissy baby for me. You will feel so much better like this! And it's a good punishment for being so horrible to me before." They kept walking and he kept his head down, not wanting to see the looks he knew he was getting right now. They were finally home, but Brenda led him to her house instead of his, talking all about the nursery she had set up for him and he didn't know why but it all sounded nice to him. She talked about lemon yellow walls and lace and frills and he wanted to tell her how pretty it sounded. He should be so mad right now, it must have been something in that bread she gave him that did all this! She had turned him into a sissy baby! Would you like a little sissification yourself?
Aunt Brenda
1-888-430-2010
Click Here to chat with a phone sex mommy!
#abdl #adultbaby #sissification #sissybaby #forcedsissification #diaperedsissy #femdom