Hello my little ABDLs, today is a very special day in Nanny Ella's Nursery. Today we start story time. The best part about my stories? They are all true! These aren't simply stories that I am telling, they are story-telling, the stories of the Adult Babies and Diaper Lovers who  have come to my real life ABDL nursery. And so, we begin…
Once there was a young woman who was kind and caring. On a night like any other night, the woman met a man who eventually invited her into his home. They liked to see each other, and they often did very fun, silly things together, like visit kids museums, playing in ball pits, watching Disney movies, and they cuddled with stuffed animals.
This woman, if you haven't guessed, was me.
It had been several months when the man turned me and said "I have to tell you something, and it's hard to tell, but I think it's time." He continued. "Wait here," he said as he walked towards the room he always kept locked. When he returned, he was wearing a onesie and holding a diaper. I admit, I laughed, and he blushed. "What's all this!" I exclaimed. "Well, here's the story. I like diapers. I like dressing up like a baby. I like the smell of baby powder and the feel of wipes…I like other things too, feeding time and nap time and play time and story time…and well, even more things, like being forced to do things…" he trailed off. My mouth was dry and eyes wide. I didn't know what to think or say…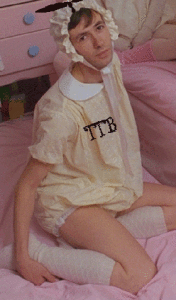 Love, hugs, and diaper pats,

Nanny Ella
*Don't forget, sweet ones, Nanny Ella can make up a story all about you, and roleplay the type of scenes that I describe online! Give me a call…and put yourself in my bABies position!*
888-430-2010
https://www.facebook.com/ella.madison.980
@nannyellamadison