Nursery Tales – The story begins
January 11, 2016


Diaper boyfriend
January 16, 2016

I could tell that he was slowly turning into the ABDL sissy I wanted him to be. I pushed him away from my moist cookie and Fina to get on all fours. I stood in front of him, took one of his pacifiers and put it in my pussy. I moved it around in there, in and out, coating the thing with my sweet juices. I then ordered him to open his mouth and I shoved the pacifier in there. I next took an old scarf and put it around his head, covering his eyes so he couldn't see. I switched out the bottle on the strap on with a giant dildo and put the harness back on. I then got on all fours, kneeling behind him. I moved the thong he was still wearing to the side and used my middle finger to play with his tight baby asshole. It made me wetter to know that he had no control in what I was doing.
I leaned over and whispered in his ear, "I'm going to fuck your tight ass now Fina and turn you into the little sissy bitch I know you are. Don't let that paci drop out of your mouth." I then grabbed his hips and shoved my strap-on into his tight ass and fucked him as hard as I could. He gritted his teeth against the pacifier so he wouldn't drop it. His baby dick grew a big as it would get, way smaller than the dildo I was fucking him with. I could tell his fire hose was getting close to exploding so I stopped. I could see the frustration in his face that I did not let him cum.
I took the scarf off his eyes and pulled the pacifier out of his mouth. "I'm not done with you yet," I told him. I then laid down in front of my new sissy baby.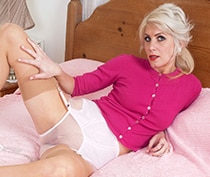 Hugs and Snuggles,
Mommy Susan
888-430-2010