Love The Holidays!
December 31, 2012
diaperdomination with nightmare mommy
December 31, 2012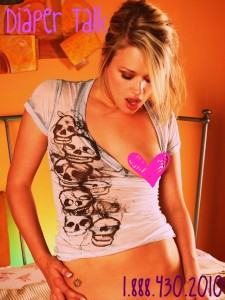 I love talking to other ABies on the phone about wearing diapers and what we like to do in our diapers. The other day I talked to a cute ABy boi who wanted to have a little talk about diapers. As it turned out, we both had to tinkle! We took turns going in our diapers while the other listened. He went first and I loved hearing his little sighs as he let himself go in his diaper. When it was my turn it felt soooo good because I like to hold it for a looong time, then when I feel like I'm just gonna burst, I tinkle my diaper!
I took my time letting my tinkle come out. First it just dribbled, then I let a little more go, and a little more, till there was a long steady stream, flowing from my lil peehole right into my diaper. And that feeling of a wet, warm diaper… mmmmm!!
I think my friend liked hearing me go just as much as I liked going for him! Afterwards we started talking about the other stuff we like to do in our diapers. Soon we were both touching ourselves in really naughty ways in our wet diapers! I felt so exhausted after we both made sticky messes, I couldn't believe how excited my ABy friend had gotten me. I can't wait for another diaper talk call like that!!
Love, Lacy
1.888.430.2010