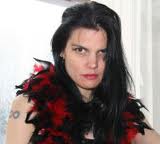 I have such fun when I am handing out corporal punishment for naughty adult abie's.
Caught one trying to leave before he asked Mistress Mommy permission,he was very sorry for that.
I grabbed him by his ear & brought him back into my playroom to engage in our playtime bound his hands in front of him with zip-ties I slipped a ball gag into his whimpering little mouth to muffle his cries.
Positioned him over my lap to ready his ass for my black leather teddy bear shaped paddle,with some nice
hard swats then he did not want to leave. I stood him up & he was smiling he was so into this whole thing.
The humiliation,the control everything in between as well.
Such a dirty,little subbie~!
How I love making them suffer.
Veronika