Hello everyone I am so happy you came to visit. I have just finished abdlblogs.com and whew it took awhile but was so worth it. I'm Mommy Maddy, and I hope you like your stay here at abdlblogs.com. There are some really neat sections here on our site so make sure to browse them all and check them out. There's a really neat Story Time section and we all made some audios for the stories so you can hear them read to you. Then theres the girls section and that's where you fine the mommy or girl that's best for you.
  Then there's the Diary section which you are reading now hehe. This is where our mommies come to let lose and write how there day has been or maybe some neat things they experienced and wanna share it with everyone. Remember some of our Mommies can be pretty naughty hehe so make sure to put on your earmuffs if you don't wanna read anything to xxx!
  If you have any questions about how to call or maybe the rates just click the "How to Call", button and it will tell you step by step on how to place the call. For any other questions just go to the FAQ's page and there you will find all your answer to any questions you might have.
 


Don't forget to drop by the specials page. We have so many great specials available and they are just for our special callers so make sure to pick one out today!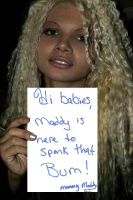 Love, Mommy Maddy