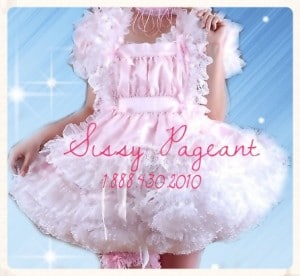 Guess what's coming up, sweet sissies? A very special sissy pageant! There's so much we need to do in preparation. First things first of course, we've got to get you started working on your pageant walk. We'll have you practice walking around the house and completing your sissy chores while you wear your heels.
And of course we'll have to start working on your wardrobe. Oooh I'm gonna get the prettiest, poofiest, most sparkly pageant dresses for you to prance across that stage in. And your hair, well we'll have to get you a nice wig I think. Something big and full. Maybe some big blond curls hmm?
Now I can be very competitive and I know the other mommies are too, so you can bet your bottom I'll be standing back stage giving you directions while you show off. Remember, always smile and give the judges a little wave. As for your talent… well we're just gonna have to come up with something extra special aren't we. Don't you worry, we'll make sure whatever it is, its something that sticks in the judges minds.
You better take this pageant seriously now, sissy. 'Cause if you don't get first place there's gonna be some serious punishment!
Mommy Liz
1.888.430.2010