Regression Potion
September 16, 2012
sissy punishment & rubbing panties
September 17, 2012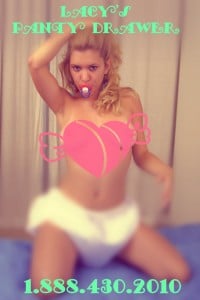 Wanna take a little peek inside my panty drawer? Even though I am a diaper girl and I love wearing and wetting my diapers, sometimes I like to wear panties too. I have so many different kinds in different colors and fabrics. I love looking through them and deciding which ones I want to wear. I even love to share them with my ABy and sissy friends!! I even have daddies who like me to send them my panties in the mail!
I have ruffled panties that I wear over my diapers that look so nice and pretty! When I wear them under dresses they make my dress puff out more and you can see my panty covered diaper when I move around. Other times, I don't wear my diapers and I wear a sexy pair of big girl panties instead. I like brightly colored lacy ones the best! The only thing is that usually if I wear big girl panties for too long I end up having an accident!
Then sometimes I have sissy friends come over to play and they like to try on my different panties! They love the way the silky or lacy materials hug their sissy bottoms and the way it feels wearing panties under a pretty dress.
I love showing off and sharing my panties. Come over and all show you all around my panty drawer!
love, Lacy
1.888.430.2010