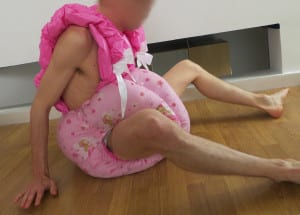 As a Dommy Mommy Sissy Boys are some of my favorite of all the abdl. They love to be told how tiny their cock is. They enjoy being led around like a dog. I often bring one of big sissies, Danny, over to my tough babies houses. He listens so well and loves to please his mommy.
The babies will play together but my loyal sissy pet Danny is always easy to convince to help mommy when it comes time to change the tough babies diaper.
Danny is always so fascinated by the tough boys cocks. I remember the first time I told him to kiss one. Watching that sissy go down on that hard cock was a fantastic moment in my abdl mommy life.
Yes, Danny, my little sissy boy is a fantastic cock sucker. The tough boys love when they see me coming with him on his leash.
Sissy boys are one of mommy Lizabeth's specialties.
Call me and find out for yourself.
Lizabeth 888-430-2010