Kinky Halloween Fun
October 28, 2012
Halloween Spirit
October 29, 2012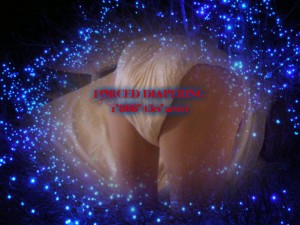 There you are you naughty thing I think you need to be taught a lesson some forced diapering is in order!
I take your dirty little hand and lead you up to what used to be your room, it is now an abie room.
Your eyes get so big as you look around the room, what happened to all of your clothes ,posters,books& things you had in your room? you ask me I shrug and say this is the way it was when I got home from work after I saw that you made that nasty mess in the bathroom. You start to stomp your feet and throw a fit. Not putting up with any of that I swat you good and hard on your butt. Get up here on the changing table, that is right now lay back. Now I am gonna take all your clothes off you do not need them anymore.
Your naked laying helpless on the changing table, I grab a diaper and some plastic panties start to put them on you. Getting even more stressed out aren't you,too bad! I pick u up off the changing table and stand you in front of a full length mirror, you look like such a sweet little sissy abie.
I bet you feel better now more like yourself.
Crissy
1*888*430*2010