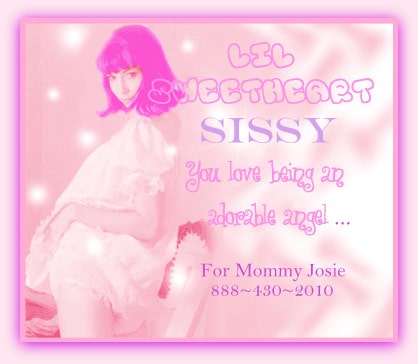 Hello my Sissy Adult Baby boy. That is quite a mall penis you have there. I think it is time to do something about that. Your going to get Sissy Pretty with Mommy. I have a wonderful Sissy AB who calls Mommy every week. It is one of my favorite times of the week. We sit down, get comfortable and talk about what life would be like if I took full ownership of him as my sissy. Eventually turning him into a real girl.
It is the ultimate FemDom ~ Sissification fantasy. He would give up his old life. Throw everything away except the clothes on his back. He arrives on my step a pitiful man with a very small dicklette. No woman will have him. Except me, but I have other plans…
Every time he calls we go a little deeper into our running story. All the things I would do to slowly prepare him for the eventual surgery that will take his manhood. But that isn't going to happen anytime soon. I have alot of work to do to transform him. All the things he has to learn about being a girl. Getting his period, shopping, make-up and hair. How to dress well and how to act, that is all just the tip of the iceberg. We discuss it all in detail. Exactly what he has to go through to become truly female under her Mistress Mommy's guidance and care.
I can transform you too. I can take you into a complete fantasy world that will leave you craving more. You will find yourself, during your daily tasks, that you will start to ask yourself? Would Mommy approve? You will become mine…
Dommy Mommy Josie for sissies and femme's
888~430~2010