Cuckolding My Sissy
August 30, 2015


So, you like to play dress up…
September 4, 2015
Small pink dresses are among the things I love most in the world. With puffed little sleeves and ruffled edges and dainty bows, they become the definition of cute. Cute, small, and feminine.
When I'm done changing a well-behaved abdl, my favorite thing is to find the daintiest and sweetest of outfits to subject him to. His cloth diaper is bulky, but the rubber pants I pull over the fabric makes it seem less bulky and transforms it into a sweet representation of infancy.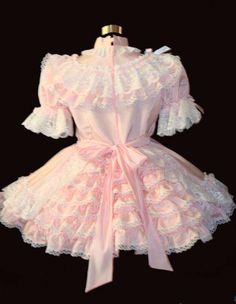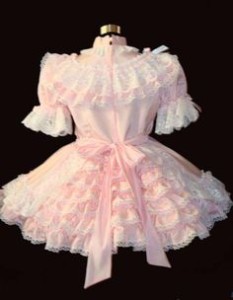 With his rubber pants snugly around his diaper I take him to the closet to survey my options for outfits. We stand in front of rows and rows of dresses and I look for the shortest, most effeminate one to button onto my good little aby. The one I finally settle on is pale pink, with a frilled collar and set of three heart-shaped buttons leading to the neck. Aby stands attentively waiting for me to pull the dress over the top of his head and guide his hands through the filly arm holes and the hem down to his bottom, where it just barely covers the pink pants I've just wrestled him into.
We stand at the closet as I do up the snaps on the back of his dress, and he looks at himself in the mirror and smiles; "You are the prettiest girl in the room," I whisper to him as I lean in to tenderly kiss him on the back of his neck.
Have Nanny Rachel pick out an outfit for you: 1*888*430*2010