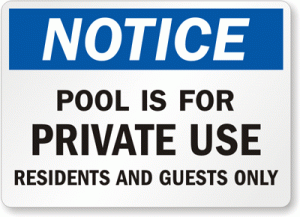 We've all seen those signs about keeping out of the pool, and what time the pool closes. It never stopped us when we were kids or teenagers though. We'd hop the fence and be swimming in the nude in no time. Just a few weeks ago a friend of my abie got a job working security at the subdivisions. Included in the area is one very nice pool and hot tub.
We never even asked him, but he offered if we wanted to that he'd let us in one night for a private swim. We brought our swim suits but had diapers and other toys in the car because the club house had a pretty nice room as well. After we heard his car turn on and saw his lights disappearing I sent my sissy abie after our diaper and toy bag.
I put him in a tiny bikini top and cloth diapers with plastic pants. He informed me that if he were to swim in them it wouldn't work out. I told him no, Mommy was swimming, abie was hanging out pool side in his top and diapers until Mommy changed him and let him swim. I know he was just expecting his friend to come back at anytime, but he is such a very good sissy abie he listened and waited. The diaper change and baby oil rub down he got though was well worth the anxiety.
Mommy Scarlet
forced feminization  – diapered sissies