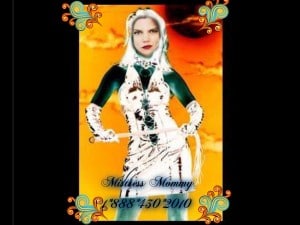 Here in my playroom your naked and cuffed to a crib wearing a diaper on your head.
I caught you looking at me while I was getting dressed for our session you knew you would be punished.
That's right you will take your medicine  just like a good abie should open wide now I have my vibrating strap on ready to correct your peeping tendencies with some strap on training.
Pounding in and out of your bottom I hear you say the safe word "flogger" I stopped and instead took out my paddle with the word naughty in silver studs across it and started to spank you instead.
That will teach you to peer in at a mistress while she is un-aware of being watched.
Tears start to stream down your cheeks from the reddening I gave your little bottom.
"I bet you will think twice before any more mis-behavior now, won't you?" I leered down at him.
"Yes,Mistress mommy I will not be bad anymore." he replied sullenly
"Glad to hear that my diaper boi you are learning!"
Veronika
1*888*430*2010