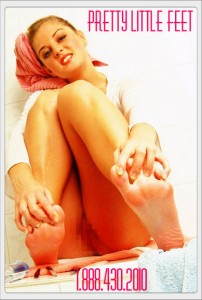 I take excellent care of every inch of my body. Cleansing, scrubbing, moisturizing, brushing, and buffing each and every little bit. There are two parts that I'm particularly proud of – my hair, I challenge you to find a woman in Texas, or any other state for that matter, with better hair than mine, and my cute, sexy, soft feet!
I soak my feet in sweet perfumed sudsy hot water and scrub and smoothe all over. When I have one of my sissies available to me I have them massage my feet for a little extra treat! Then I moisturize with sweet peppermint cream and pick out my favorite shade of red or pink nail polish to paint my lil toes. I take extra special care to paint them evenly and perfectly. Of course after painting my toes I must be very very careful not to smudge or ruin the beautiful job I did. As such I usually take the opportunity to allow my sissies to serve me while I lay perfectly still. A good strong drink and a full body rub are generally a good place to start when I'm laying still hehehehe.
Once everything is nice and dry I'm ready to take advantage of me gorgeous feet. Having sissies and boi toys suckle on my toes, rubbing them in the laps of eager play mates, and of course putting on dangerous heels for one of my very favorite pastimes – CBT!
I just had myself a little pedicure this morning, I'd just love to make good use of these sexy soft feet!
Mommy Liz
1.888.430.2010
*get 5 minutes free when you buy 20 with Mommy Liz — this week only*