Nice and Warm
February 10, 2010
Baby Love
February 13, 2010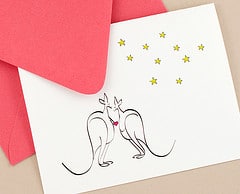 The Kangaroo's Courtship
Oh will you be my wallaby?
Asked Mr. Kangaroo.
For we could find so very many
Jumping things to do.
I have a pocket two feet wide
And deep inside,
My dear, you'd ride—
Oh, come and be my bouncing bride,
My Valentine, my side-by-side
I am in love with you.
By Jane Yolen