Why I Love being a Mommy
September 28, 2012
Little Devil Cali
October 1, 2012
That's right ABies Halloween time. And you know what that means, all my sissies can dress up and go out. No worry of being ridiculed. Mommy has just the perfect outfit for you. It will still be humiliating, of course, heehee.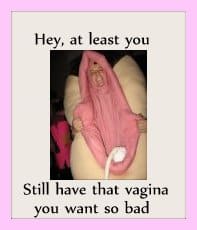 You didn't think Mommy would let you get away completely without some humiliating assignment just because it is a holiday did you? Noooo, of course not. And make sure and take lots of pictures so that next time you call, we can look at them together and Mommy can have a good laugh.
You don't have much time, so call Mommy now to get your Halloween Sissy assignment or to pick out your sissy/femme Halloween outfit. This is a time to really take it to extremes, have fun and do something you have always wanted to do.
1~888~430~2010