Phone Nanny Ella when Mommy's Had Enough
May 27, 2011
ABDL Mommy to Care for you.
June 2, 2011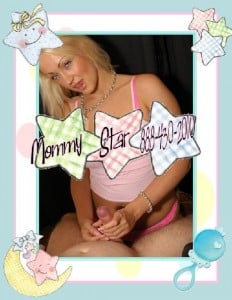 Need something to do tonight?  Nothing but repeats on TV so why not join me and many other Mommies at Phone a Mommy's Slumber Party.
Bring a blankie and a favorite Teddy Bear.
Aby's, Diaper Lovers and sissy baby are welcome too.
Every 1st & 15th of every month
From 8 pm to 4 am eastern
Ask about our special rates
Mommy Star
1 888 430-2010